LINKS
The
Alaska Legal
Resource
Center

Touch N' Go®
Software
Products
Touch N' Go
Systems
Computer
Services
Captured by the AlaskaCam®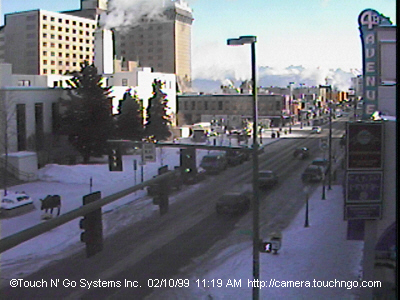 Well, it wasn't the bull chasing the cow during rutting season, but we did get a moose on camera (PS, look in the lower left corner).
Visit the AlaskaCamMall and purchase recommended Alaska books, videos and CDs from Amazon.com.

Wager with the Wind, by James Greiner

Read all about Alaska's legendary "Bush Pilot" Don Sheldon who pioneered high altitude glacier landings on Mt. McKinley, the time he taxied his float plane through "Devil's Canyon" to rescue stranded canoers and much more!
---
Touch N' Go Systems, Inc.
406 G. Street, Suite 210, Anchorage, AK 99501
Toll Free (USA) (800) 691-6333
voice: (907) 264-6333 fax: (907) 274-9493
alaskacam (at) touchngo.com
Copyright © 1997-2004 Touch N' Go Systems, Inc. All Rights Reserved.
Last Modified 12/25/2004